WEARING MASKS WITHIN THE BUILDING
From: Senior Pastor of New Beginnings Christian Center
7020 Ramona Blvd. Jacksonville Florida 32205
Sunday September 12, 2021
Dear Church Family,
The beginning of 2021 looked hopeful with COVID cases declining and
hospitalizations down, which is why the state lifted its mask mandate and we
decided at the beginning of the summer to make masks optional during church
service. Unfortunately, with the advent of the COVID Delta variant we are seeing
cases rising and hospitals stressed again. Within our own congregation we have
experienced two occurrences of people testing positive after attending church
services which necessitated us cancelling in-person meetings for the following
Sundays out of an abundance of caution.
I know that some of you are vaccinated and some are not, and that is a
personal decision. That said, there are real impacts to someone contracting
COVID through contact in our church service with the least being forced
quarantine and the worst hospitalization or loss of life. For those forced to
quarantine this could result in lost pay which can also have significant financial
impacts.
Suffice to say, I feel it is my responsibility as your pastor to take all
reasonable precautions to ensure the safety of those attending our services. This
has included following CDC guidelines as far as cleaning and sanitation. I would
also like to remind people that if they feel sick, whether they believe they have
COVID or something else, to please stay home.
I also think that for the time being it would be prudent for those 12 and
older to return to CDC guidelines as far as wearing a mask within the building.
While this is not proven to be 100% effective in preventing the spread of COVID, it
can help. This is not a personal freedom issue. Jesus commanded us to love one
another. In 1 Corinthians 8 Paul cautions believers to not let their freedom become a stumbling block for someone else. In practice this means serving each
other and putting other's needs above our own.
So, while you may not think that masks are necessary, I am requesting that you honor your brothers and sisters and wear them when not sitting at a table with immediate family members.
We will get through this. God is faithful. Pastor Donna and I love you and
look forward to seeing you soon.
Pastor Bill
Upcoming Events
2021 National Leaders Summit
We are welcoming NDP volunteers and event coordinators from around the country to join us for our annual Leaders Summit in St. Louis, Missouri September 9-12. These four days will be full of prayer, praise, mentorship from seasoned volunteer coordinators, and equipping for the work of mobilizing unified public prayer for America. There is still time to register if you want to attend! Click this link to register https://intre.org?535
DEADLINE is AUGUST 16TH to secure your spot for a powerful weekend of prayer!

About the National Day of Prayer
The National Day of Prayer tradition predates the founding of the United States of America, evidenced by the Continental Congress' proclamation in 1775 setting aside a day of prayer. In 1952, Congress established an annual day of prayer and, in 1988, that law was amended, designating the National Day of Prayer as the first Thursday in May.
To learn more, or to find a National Day of Prayer event in your community, visit www.NationalDayofPrayer.org. To schedule a media interview, send your request to media@nationaldayofprayer.org, or contact Dion Elmore, Vice President of Marketing and Public Relations at The National Day of Prayer Task Force, (719) 559-9574.
National Day of Prayer Task Force
http://www.nationaldayofprayer.org/
-=-=-
Mobilizing Unified Public Prayer for America
National Day of Prayer Task Force · PO Box 64225, Colorado Springs, CO 80962, United States
This email was sent to pastorbill@nbccjax.org. To stop receiving emails, click here.
-=-=-
New Beginnings Christian Center is a young, growing ministry planted on the west side of Jacksonville, Florida, right off of Interstate-10 at Lane Avenue and Ramona Blvd. We believe that God has called us to train and equip a new generation of Christians devoted to serving the King and advancing His Kingdom here in Jacksonville and around the world.
Our mission is to Touch People with the love of Jesus, to Restore the broken relationships which plague our lives, to Equip Believers for works of service and to Release Disciples into the world to proclaim the good news of the risen Christ.
FORCED TO SABBATH
Foursquare Missions International's Dan Lucero has always been busy in ministry. But when the pandemic forced shutdowns, he discovered in a new way the benefits of Sabbath, and that the Great Commission continues even when we choose to rest.
Dan and Martine Lucero
"Sabbath." For many years, I interpreted "Sabbath rest" to mean ceasing from "my works" in order to focus on doing "the Lord's work." Frankly, there has not been much about it that I have experienced as restful. In fact, on the contrary, His work has kept me quite busy!
I'm not a guy who likes to sit still. When I met Jesus at the age of 21 in Spain, I jumped right into the work of ministry and the bivocational call I believed God had given me. When my wife and I arrived in France in 1994, we had three children under age 5. I was a "tent maker" at the time, as there were no Foursquare works in the region.
Within the first five years, I finished a Ph.D. program, taught full time, started a business, planted our first Foursquare church, and we added a fourth child to the mix. Sabbath was only an elusive concept in those days. Wasn't I supposed to be always available to God, to help accomplish His purposes for the Francophone nations?
God's mission has indeed accomplished great things through the years. Today, we have over 70 local works in France, thousands of churches in Nigeria and the French-speaking countries across Africa, and even a business in Ghana. I'm so amazed and thankful that God has moved mightily in these regions, and I'm privileged to have the opportunity to continue to join Him in His good works.
Though I've sensed God stirring in my heart this concept of Sabbath rest, I've always wrestled a bit with the idea of just "being," thinking of it as something lesser than "doing." When COVID-19 arrived with its international lockdowns, life as we knew it came to a halt. I get energized by doing, so the thought of doing nothing has never had much appeal to me. Yet here I was, quarantined in my house for months with nowhere to go. Talk about being confronted face-to-face with the idea of Sabbath!
"I'm still a guy who loves doing. But I am learning how to say no and trust that God can and will get as much done with or without my constant help." —Dan Lucero
Until then, I don't think I had any way of measuring how far away from Sabbath rest I had drifted. For me, the experience has been like having the airplane of my life hit a dead spot in the sky. When planes encounter dead spots, they can drop in a free fall for thousands of feet in just a few seconds. That's what quarantining felt like for me; it's as if the bottom of my life fell out temporarily.
Thankfully, God reminded me that He is my seatbelt. Still in control, He's been teaching me what Sabbath looks like on a practical level.
In the past year, working in the discipline of Sabbath rest has settled my spirit as I'm discovering solace in literally doing nothing. I'm not doing this perfectly, and some days it's a bumpy ride, but the "flight" is getting easier. I'm finding stability. I've finally discovered firsthand what Jesus meant when He said the "Sabbath was made for man, and not man for the Sabbath" (Mark 2:27, NKJV).
I need Sabbath rest for a couple of important reasons.
It's good for my mind and body. In a physical sense, I'm able to recharge and refresh.
It's also good for my heart. It keeps me in a posture of letting go and trusting Him; to believe that He can still accomplish His purposes without me—imagine that!
What's more, He's shown me that the work of the Great Commission still goes forth, and in ways that are even better than I could dream of. Seeing this has both humbled me and increased my faith.
I'm still a guy who loves doing. But I am learning how to say no and trust that God can and will get as much done with or without my constant help.
My adrenaline levels have decreased, and I'm a healthier man today because of Sabbath rest. Praise the Lord, the Great Commission never ceases even when we do!
Get to know more Foursquare missionaries and leaders, like Dan, and see how God is at work worldwide.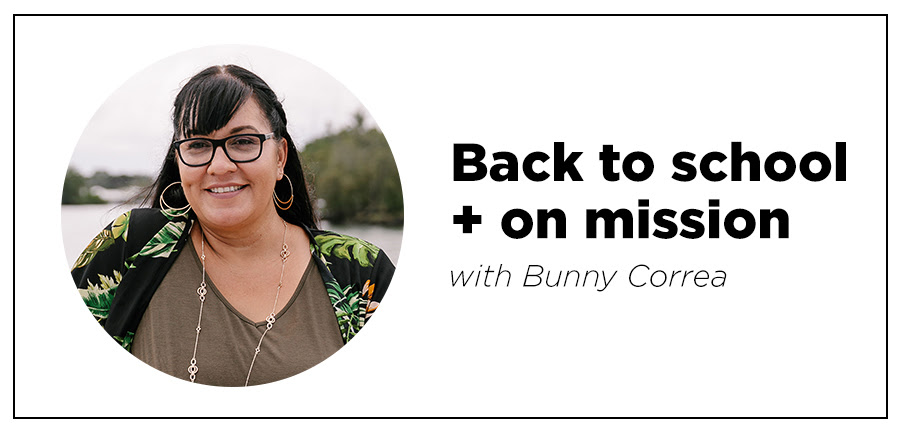 My husband, Stephen, and I recently decided to implement a stretching routine due to all the new aches and pains we've been feeling. (An incident involving a hammock solidified that decision—yes, being stuck in a hammock because you can't get yourself out is a game-changer!)
After years of working with young people, I've come to realize that, unlike my current muscle situation, kids are amazing at bouncing back. Take my niece, for example. She'll give me a look where I instantly know she needs to talk. It's a look of urgency (even though it usually means she needs help with the newest TikTok dance) that requires my full attention. And lately, our urgent conversations have been more about her excitement to return to school than what's the latest trend.
Who would have thought kids would be this excited to return to school? Their eagerness for human contact and in-person interaction is nothing short of a miracle. Here they are as resilient as ever and ready to take on what's next.
Philippians 4:6-7 says: "Do not be anxious about anything, but in every situation, by prayer and petition, with thanksgiving, present your requests to God. And the peace of God, which transcends all understanding, will guard your hearts and your minds in Christ Jesus" (NIV).
Whether they are entering kindergarten or jetting off to college, there's a new sense of excitement. Almost as if they know they're about to change the world.
There is no better time than the present to reach out to the young person in your life and teach them how they've been called and set apart. They are excited to know and follow Jesus, determined to be transformed by Jesus, and ready to be on mission with Jesus.
We can only do this together. Let's go!
By: Bunny Correa, assisting minister at New Hope Hilo Hawaii (Hilo Foursquare Church) in Hilo, Hawaii, and NextGen Coordinator; Communications + Events Coordinator for the Pacific District